Company: System Protection
Post: Installation Engineer- Site/Mechanical Engineer
Qualification: Degree In Electrical/Electronic/Instrumentation/Mechanical Engineering
Experience:fresher
Location: vadodara gujarat
Salary: Depends On Interview
Selection Process: Interview Dates And Venue Will Be Shared With The Shortlist Candidates Separately
System Protection Job Description: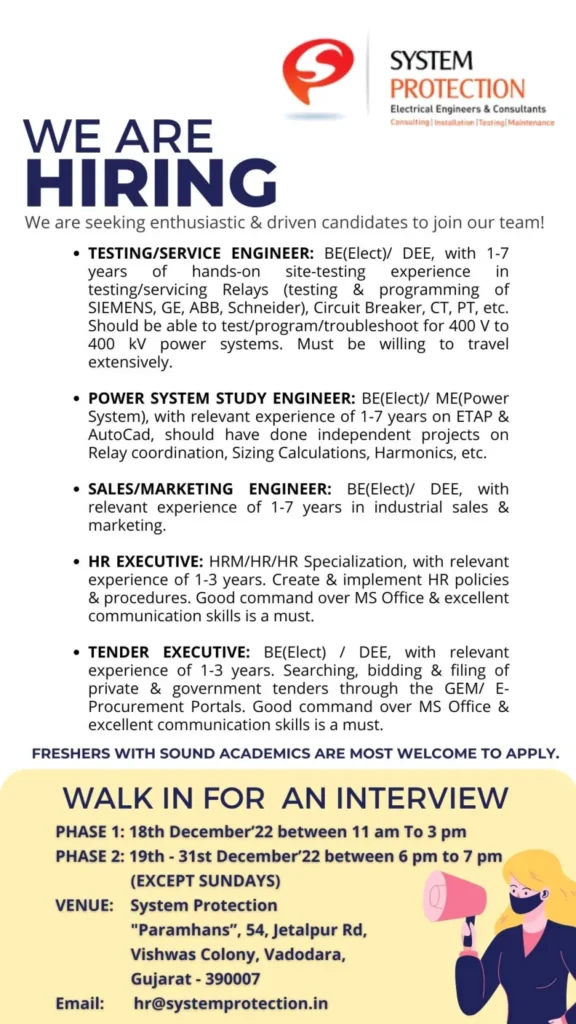 Engineering is seeking a System Planning Engineer to join our team. It is expected that this role will involve the execution of transmission planning, transmission system modeling, compliance verification, and protective device coordination, as project and client criteria dictate.
In this role, you can expect to gain:
FERC and NERC expertise
Exposure to industry software and analysis tools
Electrical Power Calculations
Interactions with other disciplines (Substation, Protection & Controls, and Civil Structural)
Strategic Development
Expanding a Portfolio of Business
Partnering with a Variety of Utility Clients Nationwide
Engineer in Training Certificate (EIT)
Professional Engineer License (PE)
Project Management Professional (PMP)
Technical & Non-Technical Training Opportunities
Leadership Opportunities
Mentorship & Training Opportunities
Opportunity to Lead, Grow, and Inspire a Dynamic Team
Primary Responsibilities
Successful candidates can expect to conduct Transmission system software modeling and analysis studies for Municipal Utilities, Investor-Owned Utilities, and Regional Planning organizations. The position will involve some degree of client-facing work, with some business development activities to be expected. The growth potential of this position is significant for the right candidate.
Basic Qualifications
Bachelors in Electrical Engineering or related engineering degree is required (0-2 years of experience)
Must be a US Citizen/Green Card Holder
Must possess strong communication skills, including listening, writing, and presentation skills
Must be a team player, able to work collaboratively with many different people with diverse backgrounds and geographic locations
Preferred Qualifications
The candidate should possess solid analytical power experience, including load flow for both traditional planning studies and for studies driven by regulatory compliance requirements, distribution, and transmission protection systems. Familiarity and experience with distribution policy, transmission policy, and regulatory issues is also considered a plus, including experience with protection coordination.
Experience functioning in a technical role in transmission or distribution studies and capable of conducting studies under the direction of a technical supervisor is strongly desired, ASPEN OneLiner or Siemen's CAPE desired.
Milsoft's WindMil, or Cyme's Cymdist Siemens PTI's PSS/E or GE Concordia's PSLF, EMTP or PSCAD experience is also a plus.
Experience with ETAP, EasyPower, DNV GL's Synergi
Engineer-in-Training (EIT) license is preferred
Role:
Engineer
Employment Type
Permanent, Full Time
Interested Candidates Direct Apply Official Website: Apply now