company:Adani Solar Limited
Post: project engineers
Qualification:btech diploma Graduate
Experience: 7-20 years
Location: mundra India
Salary:depends on interview
Selection process: Shortlisted Candidates Will Be Contacted For The Interview
Adani Solar Limited job Description
Adani Solar is the Solar PV manufacturing arm of Adani Group, a diversified organization in India with a combined market cap of $200 Bn comprising 7 publicly traded companies. It has created world class transport and utility infrastructure portfolios with a pan-India presence.
Adani Solar is India's 1st and largest vertically integrated solar company that offers products along with services across the spectrum of photovoltaics manufacturing. The cutting-edge technology, with machines and equipments sourced from the best in class suppliers, aim to help in cost leadership, scale of operations and reliability standards as per global benchmarks. Currently, Adani Solar is building the World's 1st ever Fully Integrated and Comprehensive Eco-system of 10 GW Solar PV manufacturing in Mundra, India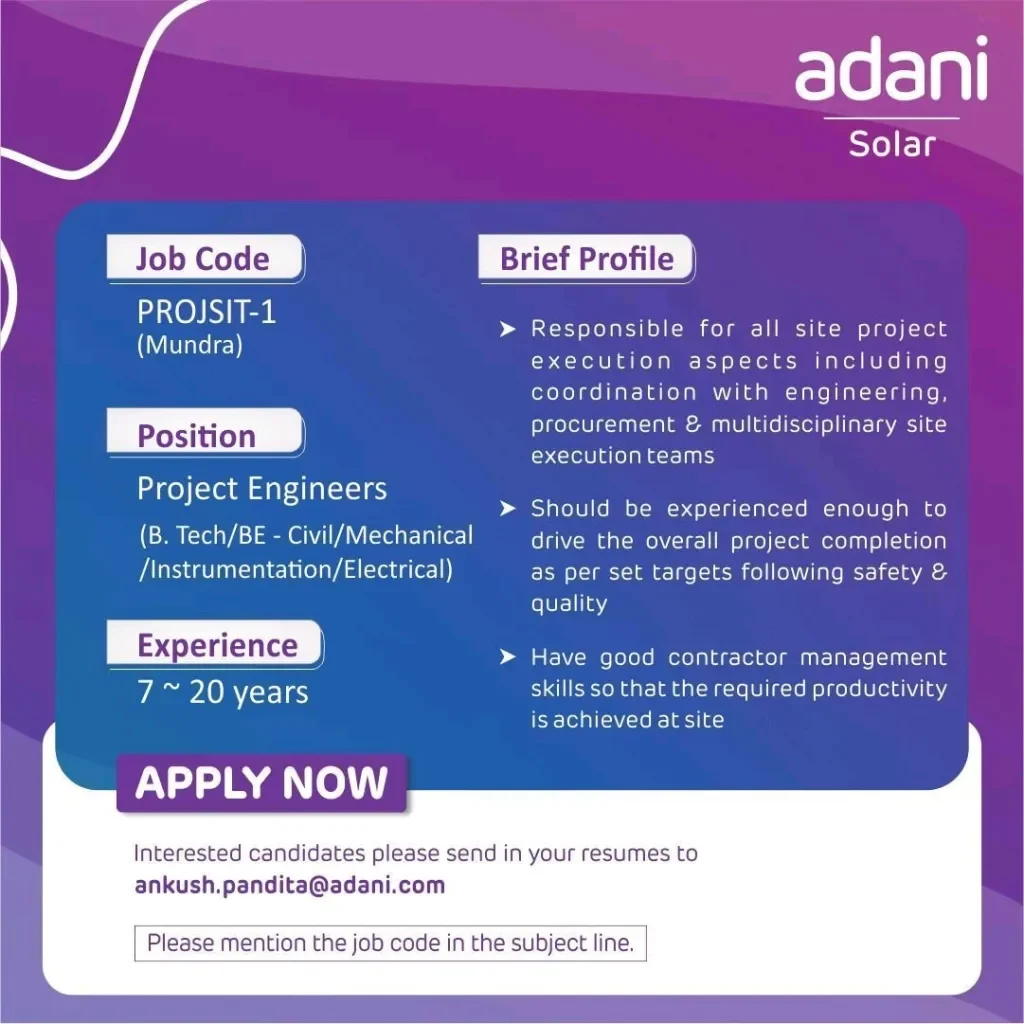 Explore a career at Adani Solar
Innovation, Acheivement, Growth and Leadership – if you identify with these, join us to build the most Advanced and Fully Integrated Solar Manufacturing Ecosystem in the world.
Come and be a part of the Adani Solar family. Apply today for a Career of a lifetime
We're hiring:
Open positions in Mundra, Gujarat, India
| Sr.No. | Position Code | Position |
| --- | --- | --- |
| 1 | PIW-01 | Plant Head – Ingot & Wafers |
| 2 | PIW-02 | Head – Process – Ingot & Wafers |
| 3 | PIW-03 | Head – Quality – Ingot & Wafers |
| 4 | PIW-04 | Production Engineer – Ingot & Wafers |
| 5 | PIW-05 | Maintenance Engineer – Ingot & Wafers |
| 6 | PIW-01 | Production Engineer – Cell Topcon |
| 7 | PIW-02 | Process Engineer – Cell Topcon |
| 8 | PIW-03 | Quality Engineer – Cell Topcon |
| 9 | PIW-01 | Process Engineer – Cell Perc |
| 10 | PIW-02 | Maintenance Engineer – Perc |
| 11 | PIW-01 | Process Engineer – Module |
| 12 | PIW-02 | Maintenance Engineer – Module |
| 13 | PIW-01 | Head-Technology – Module |
| 14 | PIW-04 | Manager-Technology MG Silica |
Adani Solar Limited
Role: engineer
Employment Type
Full time
Interested Candidates Direct Apply Official Website:Apply Now