What Does a Motorcycle Accident Lawyer Do?The moments, hours, and days after a motorcycle accident are some of the most stressful times in a person's life. At a time when you should be able to focus on healing from your injuries and recovering, you're dealing with medical bills, lost wages, and calls from insurance companies that don't have your best interests at heart. A lawyer can help, but most people don't fully understand what motorcycle accident lawyers do.
In truth, a motorcycle accident lawyer can be the difference between a lowball settlement (or no settlement) and getting full compensation for your damages. If you were injured in a motorcycle accident that wasn't your fault, you'll want to reach out to a lawyer as soon as possible.
What is a Motorcycle Accident Lawyer?
A motorcycle accident lawyer is a type of personal injury lawyer. Personal injury lawyers help those who have been injured in an accident seek financial recovery for their damages like:
Medical treatmentPrescription medications
Lost wages
Loss of earning capacity
Vehicle damage and
Pain and suffering
a tort is "the unlawful violation of a private legal right other than a mere breach of contract, express or implied" or the "violation of a public duty" where the victim suffers damages. If someone causes an auto accident, they have been negligent—in other words, they have violated their legal duty to act in a way that does not harm others.
Motorcycle accidents fall under the scope of tort law. If a personal injury lawyer specializes in helping victims win compensation after motorcycle accidents, they are also known as a motorcycle accident lawyer. Their goal is to make the accident victim whole again through compensation.
What a Motorcycle Accident Lawyer Does With the goal of getting you the financial recovery
you deserve, here are some of the specific ways a motorcycle accident lawyer can help your case.
Explaining Your Rights
Most motorcycle accident victims have never been in this type of position before. It can be hard to know where to turn first, and you will likely have a lot of questions. Your lawyer can be the guiding light after your accident to make sure you understand your legal rights and other details of your case.
In Georgia, if someone breaches their legal duty and you get injured as a result, you have the right to seek compensation for your damages (Georgia Code § 51-1-6). That means you have the legal right to file a personal injury claim with the at-fault party's insurance company or file a lawsuit against them for damages.
Providing Legal Guidance and AdviceA motorcycle accident case often includes confusing legal or insurance jargon that most people won't understand. You'll also need to deal with the insurance company, which might try to get information from you to use against you or encourage you to accept a low settlement.
Your motorcycle accident lawyer can walk you through the legal process with a professional eye and make sure the insurance company doesn't take advantage of you. This is why a lawyer will advise you to not accept the first settlement offer, agree to give any statements, or sign anything from the insurance company without consulting them first. They'll make sure every step you take is helping your case and not hurting it.
A motorcycle accident lawyer will handle the legal aspects of your case so you can focus on getting treatment, healing, and being with your loved ones after the accident.
Building Your Motorcycle Accident Case
Before you can file your motorcycle accident claim with the at-fault driver's insurance company, you'll need to gather evidence to show that:
The motorcycle accident happened and caused your injuries.The at-fault party's negligence led to the accident.You suffered damages as a result of the motorcycle accident.A motorcycle accident lawyer will know what information needs to be gathered and compiled to build a strong insurance claim. They will work to gather pictures from the scene, get copies of reports, take eyewitness statements, obtain medical records, and more. The goal is to show how the accident happened, who was at fault, and why the at-fault party is responsible for your damages.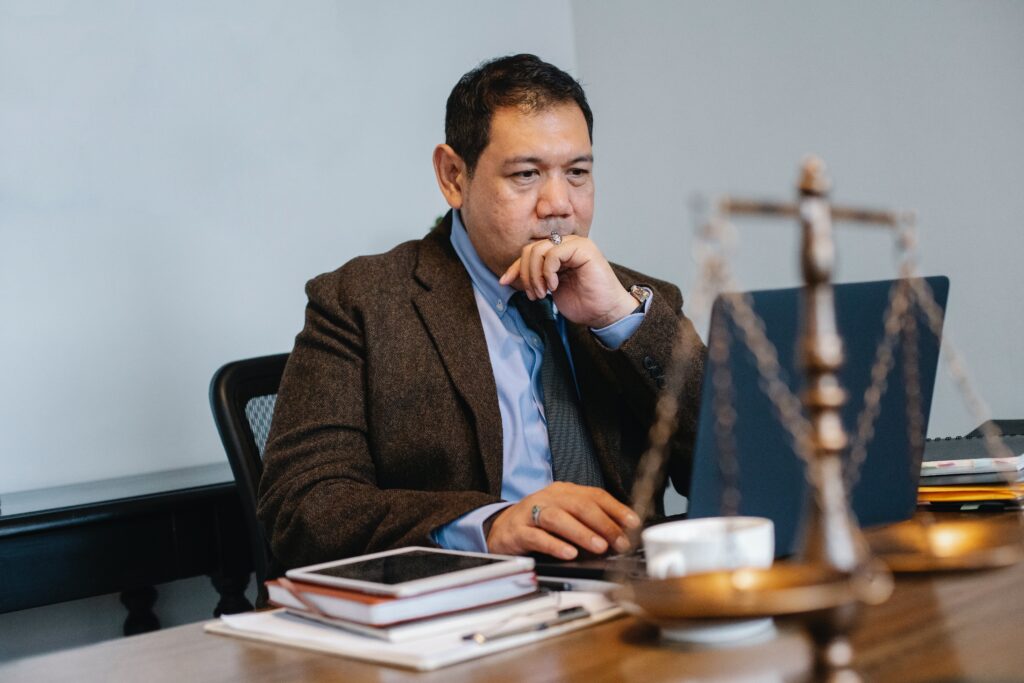 Your lawyer will also wait until after you have reached maximum medical improvement (MMI), which is the point at which you've recovered as much as possible with medical treatment. That way, they can accurately calculate your total damages, including past and future medical costs. When they have all of the information they need, your lawyer will compile all evidence to build and file your claim.
Negotiating for a Fair Settlement
When you file your insurance claim, the insurance company will review it and respond. The insurance company might respond with an offer, but it's usually a lowball amount that doesn't come close to covering your damages. The insurer might try to make it seem like a good deal (or the best you can get)—but with a lawyer on your side, you'll know better.
A motorcycle accident lawyer will know how to deal with the insurance company. They'll work to negotiate a settlement amount that is actually fair to you based on your damages. If they are successful, you'll get paid.
Representing You in Court
Most motorcycle accident cases end in a settlement, especially if the injured motorcyclist hires an experienced lawyer. However, in some cases, the insurance company won't agree to a settlement that is good enough. If that happens, your lawyer might advise filing a lawsuit.
Your lawyer will represent you from each step of the lawsuit process. Before going all the way to trial, they will work to negotiate a settlement along the way. Settlements are often reached at this point, but if you need to go all the way to trial, your lawyer will be there to fight for your rights.